Omega De Ville Introduction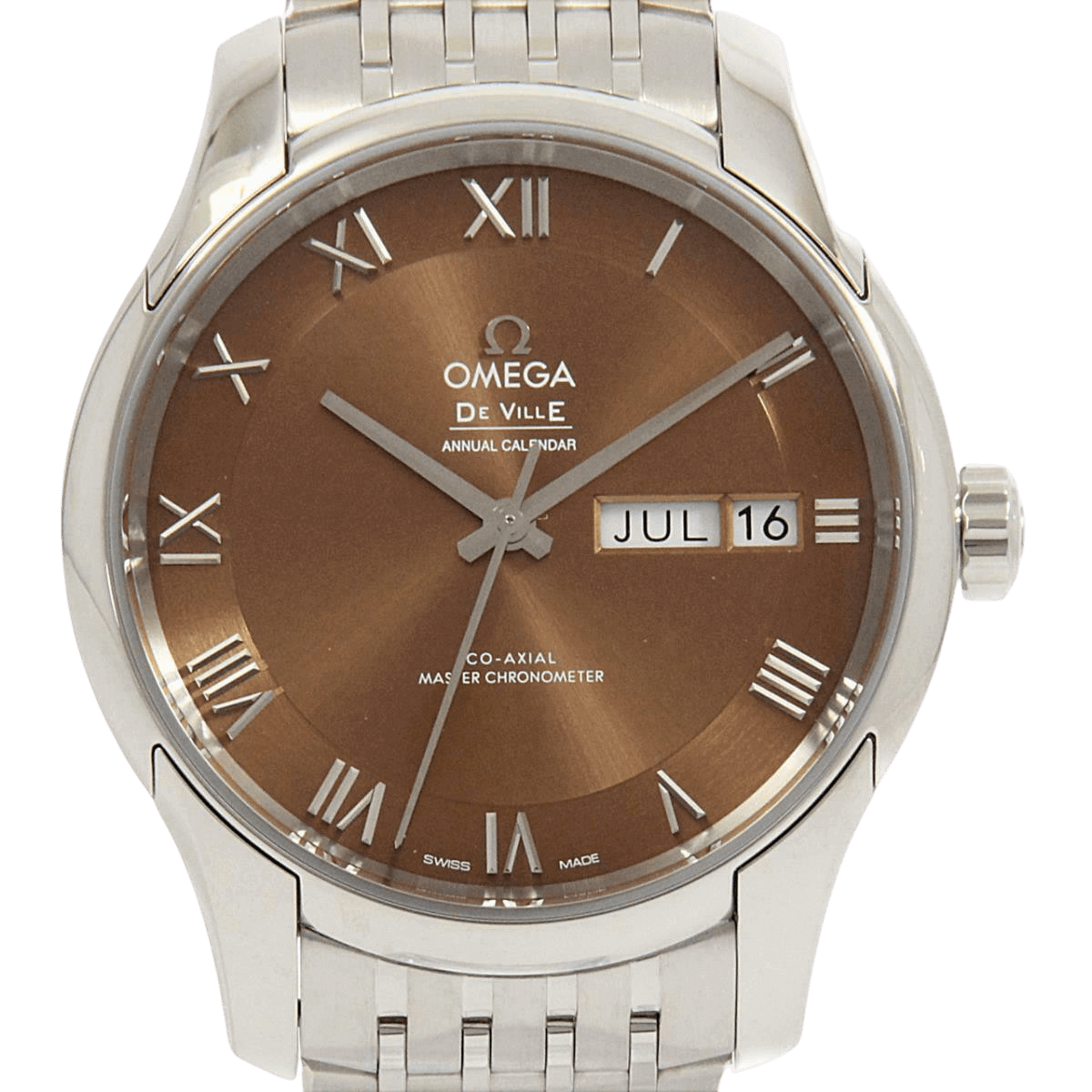 The Omega De Ville represents an elegant dress alternative to the luxury divers and sports watches that have long defined the Omega brand. Bolstered by the same precision engineering as the Seamaster, Speedmaster and Constellation, the De Ville series of chronometers combines classic design with a sophisticated attitude.
Countless celebrities including Nicole Kidman, George Clooney and Daniel Craig frequently wear a De Ville. Don Draper also donned a vintage Seamaster De Ville on Mad Men, a series purposefully infused with iconic design elements from the 1960s.
Omega De Ville Watch History

The De Ville launched as part of the Seamaster collection in 1960, though "De Ville" did not actually appear on an Omega dial until 1963. In contrast to its larger dive watch siblings, the popular 34mm Seamaster De Ville's minimalist design appealed to buyers in search of an accurate time-only automatic dress watch. The Seamaster De Ville had a fixed solid caseback, an interesting characteristic that required watchmakers to remove the crystal when servicing the watch.

As Seamaster became identified as a dive watch, Omega recognized De Ville's potential as a stand-alone line and spun it off as a branded collection in 1967. The intent was to create a collection that blended elegance and classic simplicity with a more youthful urban feel. Rather than creating the collection in its industrial home of Bienne, Switzerland, Omega instead chose Geneva to capture a more sophisticated aesthetic. De Ville met this standard by coupling playful oval, rectangular and square shapes with classic dials and markings in gold and steel cases. Round cases remained a staple as well.

De Ville emerged as a top selling line for Omega in the 1970s. Especially popular were its square and rectangular models with integrated gold bracelets. During this period, Omega won the Grand Prix Triomphe de l'Excellence Européenne award and its designs were recognized six times as Golden Roses winners at the Baden-Baden design awards.

After a period of dormancy, Omega reenergized the De Ville line with the introduction of the De Ville Co Axial. It was the first watch powered by the revolutionary calibre 2500 with its Co Axial escapement. Omega again used the line to debut the calibre 8500 inside 2007's Omega De Ville Hour Vision.

Today's De Ville lineup includes the Hour Vision with a see-through case body and five other sub brands:

Ladymatic: An ultra-feminine collection of 34mm timepieces in gold, steel and two-tone versions, often decorated with gemstones and a Supernova dial;

Omega De Ville Gents Collections

: A classic collection of 40-42mm chronometers, annual calendars and chronographs;

Omega De Ville Prestige

: Elegant, classic designs for women and men;
Trésor: A collection featuring easy-to-wear thin cases with a low profile;
Tourbillion: A limited collection at the pinnacle of luxury watchmaking.
De Ville Features

A dress collection at its core, modern De Ville chronometers tend more toward classic round designs than the watches Omega produced in the late '60s and '70s. With its narrow set of available complications limited to Annual Calendar and Chronograph, most of the De Ville collection is comprised of minimalist chronometers. Gold, steel and two-tone cases with and without transparent case backs dominate the lineup, though the ultra-luxe Tourbillon limited edition is produced in Platinum.

While the Gents collection tops out at 42mm, smaller sizes that wear effortlessly are more typical. Dials feature a wide range of colors and are often textured or patterned. Bejeweled bezels and faces, especially on the Ladymatic line, are a hallmark of modern De Villes, as are interesting and unique lume-free numbers and markings. Omega offers a range of bracelets and colorful straps that can be changed to create unique interpretations of the De Ville aesthetic.

At the heart of most modern De Ville are automatic Co Axial or Co Axial Master Chronometer movements including calibres 2500, 8500 and 8900. Quartz movements are also available. Vintage Seamaster De Ville's frequently featured round gold-plated steel cases and simple designs on leather straps. Post-Seamaster vintage De Villes were also produced with round cases, but the unique shapes were the real standouts.
De Ville Value and Collectability
Omega De Ville vintage watches from the 1960s and '70s provide a budget-friendly entry point for anyone seeking a quality timepiece with a legendary Swiss-made heritage. Automatic- and quartz-powered examples are abundant, as are the unique case shapes and styles that propelled De Ville's popularity. A vintage standout is the hand-wound 2-register chronograph produced in the late 1960s.
New De Ville chronometers are available at a range of prices, while pre-owned modern Omega De Ville watches sell below retail. Expect any modern Co Axial or Master Chronometer De Ville to hold its value over time and provide years of enjoyment.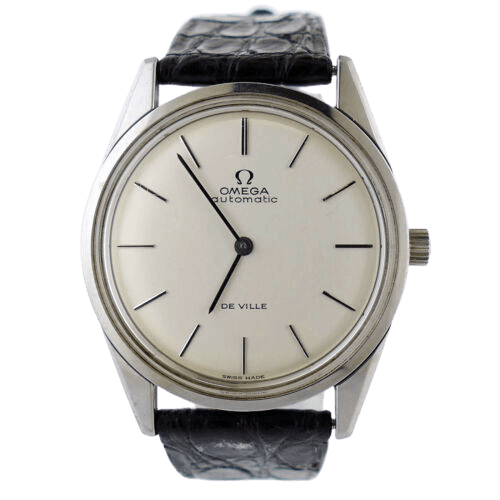 Watchmaker's Perspective

One of the most mysterious and mesmerizing watch mechanisms came to the Omega De Ville in 1994, with the introduction of the De Ville Central Tourbillon wristwatch. A tourbillon is a mechanism sometimes included in high-end watches to average the effects that gravity causes on its performance. Today, the tourbillon is most often used as a demonstration of the virtuosity of the watchmaker, and the De Ville Central Tourbillon certainly puts Omega in the spotlight.

First, this tourbillon mechanism uses the famous co-axial escapement. The co-axial escapement innovates by separating the locking and impulse functions of the escapement into two separate wheels, which greatly reduces the amount of friction generated when the watch is running. Second, the watch has a lengthy three-day power reserve. More than enough autonomy to keep running, even if you forget to wind it for one day. Third, the De Ville Central Tourbillon is now Master Chronometer certified, meaning that it can withstand magnetic fields up to 15,000 Gauss.

Magnetism is a serious problem for mechanical watches, which can cause variation in the rate of the watch while running. With vintage watches, even momentarily resting them on a loudspeaker can expose the watch to enough magnetism to alter its rate. Thankfully, the Omega De Ville Central Tourbillon eliminates this problem with its extreme resistance to magnetism.