Omega Speedmaster Professional Wristwatches
Omega Speedmaster Professional chronographs are a subset of the larger Speedmaster Collection. "Professional" was added to the name to associate select watch models with NASA and the US Space Program. Omega applies the name liberally but in general, all Speedmaster Professionals evolved from the watch worn by astronaut Ed White during his Mercury 7 mission.
Speedmaster Professional
History and Timeline

The Speedmaster Professional was introduced by Omega in 1964. According to legend, NASA concluded a series of secret tests to select a chronometer for space flight in 1965. The Speedmaster was the only watch qualified by NASA and, after an image was released showing astronaut Ed White wearing a Speedmaster (ref. 105.003) on a Gemini mission spacewalk, Omega added "Professional" to the name. In reality, Omega has already delivered watches bearing the Professional designation before NASA's tests were complete. Nonetheless, Omega's marketing efforts quickly established that Professional connoted a NASA-qualified tool watch.

The first Speedmaster to carry the Professional moniker was released in 1964 with reference number 105.012. This watch, along with several other Professional models, eventually became known as the Omega Speedmaster Professional Moonwatch. Pre-Moon Speedmaster Professionals were aboard every NASA mission from 1965 until Apollo 11 lifted off in July 1969. After Buzz Aldrin wore his Speedy on the moon, "Speedmaster Professional" became synonymous with "Moonwatch."

In the years after the first moon landing, Omega expanded the Speedmaster Professional Moonwatch line beyond the original models (reference numbers 105.012, 105.021, 145.012). With ref. 145.022's migration to the calibre 861, the era of the 321 ended, until 2019 when Omega re-issued the movement in the Apollo 11 50th Anniversary edition.

TWhile all Moonwatches are Speedmaster Professionals, not all Professionals are Moonwatches. The Mark II and Mark IV models, along with some of the Mark IIIs, are all identified as Professionals despite never being qualified for space flight. Mark series watches have automatic movements, sapphire crystals and case styles that differ significantly from classic Speedmaster Professionals. There is an ongoing debate among watch enthusiasts as to whether the Mark series should be classified as a Speedmaster Professional, but Omega's intent seems clear given that "Professional" appears on the dial of each one. Omega also offers the non-Moonwatch analog/digital X-33 Regatta and Skywalker Speedmaster Professional.
Speedmaster Professional
Features

Speedmaster Professionals are powered by hand-wound movements, except for the automatic Mark series. Earlier versions used the storied calibre 321 movement, a column-wheel workhorse that also appeared in pre-Professional Speedmasters. In 1968, Omega replaced the second generation 321 with the calibre 861. Along with the 186X, this movement provided power to most subsequent Professionals. The classic Speedmaster Professional features:

An asymmetrical 42mm steel case with a crown guard;
Hesalite crystal
A black tachymeter bezel with a dot over 90 ("DON") or next to 90, depending on the year
Three register luminous black dial emblazoned with "Speedmaster Professional;"
Luminous baton hands with an arrow-tipped chronometer
Tritium paint for luminosity until 1997, when it was replaced with Luminova. The "T" that appears on either side of "Swiss Made" indicates tritium's presence;
Steel caseback with engraved Omega Seahorse (Hippocampus);
Twisted lyre lugs;
Applied logo on early versions, then printed logo beginning with ref. 145.022;
Steel bracelet;
Water resistant up to 30 meters on older models and 50M on newer versions.

Steel Bracelet

An asymmetrical 42mm steel case with a crown guard

Dial

Three register luminous black dial emblazoned with "Speedmaster Professional

Water Resistant

Water resistant up to 30 meters on older models and 50M on newer versions

Outside of the Mark series, the X-33 and various special editions, the look of the Speedmaster Professional collection is largely unchanged since the 1960s. Omega has refined certain elements like the bracelet, crown style and other cosmetic features, but a modern Moonwatch is extremely similar in look to the original.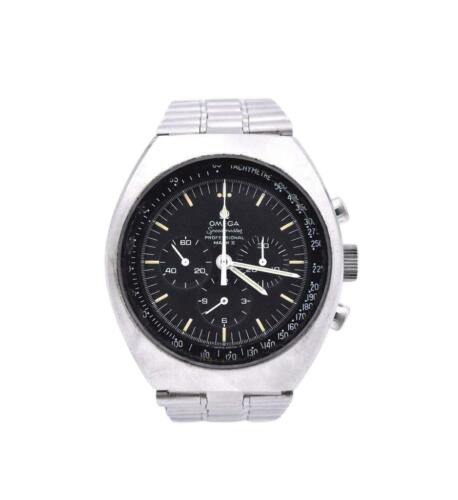 Speedmaster Professional
Collectability

Omega Speedmaster Professional chronographs are highly collectable, and there are no indications that the market for vintage, used and new models will contract in the future. Pre-moon and Moonwatch variations with the calibre 321 movement are prized by fans of the Speedmaster series. Owners tend to hold these watches, but pre-1970s-era DON examples with applied logos in good condition are available.

Pre-1970 vintage Speedmaster Professional ref. 145.022 with calibre 861 are easier to find. Regardless of model, assessing the vintage watch's condition is critical. Act fast if you find one that has been properly maintained with original parts. If hands, crown, bezel and other parts have been replaced, confirm that genuine Omega parts were used. Blemishes, scratches and flaking paint are common and expected.

Used Omega Speedmaster Professionals from the '80s and '90s are often a great value since these watches retain the style and accuracy of the vintage models at a significantly lower cost. Watches from this era are more likely to include the original kit containing boxes, papers and bracelet. They will also have an appealing yellowed luminescence that results from aging of the tritium paint. New Omega Speedmaster Professionals covered by Omega's 5-year warranty are also readily available.
Watchmaker's Perspective

If you open up a mechanical watch, you will see a fascinating collection of gears, springs, screws and levers, known as the movement (or caliber). Many watches share movements, and some even have purpose-built movements made for them. The movement used in the Omega Speedmaster Professional has gone through some changes throughout its illustrious career, which deserve some close attention.

Caliber 321 was the movement in the Speedmaster Professional that made the trip to the moon and back. This classic movement is a column-wheel chronograph movement, which is very desirable from a collecting point of view. However, the column-wheel mechanism can be difficult to service.

Later in the life of the Speedmaster Professional, Omega modified the movement to use a cam actuated chronograph system and called it Caliber 861. The arguments for Caliber 321 versus 861 can be technical and complicated, but it can be said that the cam actuated chronograph is an improvement in some ways. Still, Caliber 321 is somewhat more desirable, as Caliber 861 never made it to the moon. Regardless of your preference in chronograph architecture, you can be confident that the Omega Speedmaster Professional lives up to its name in every way.