Introduction to the Omega Speedmaster Collection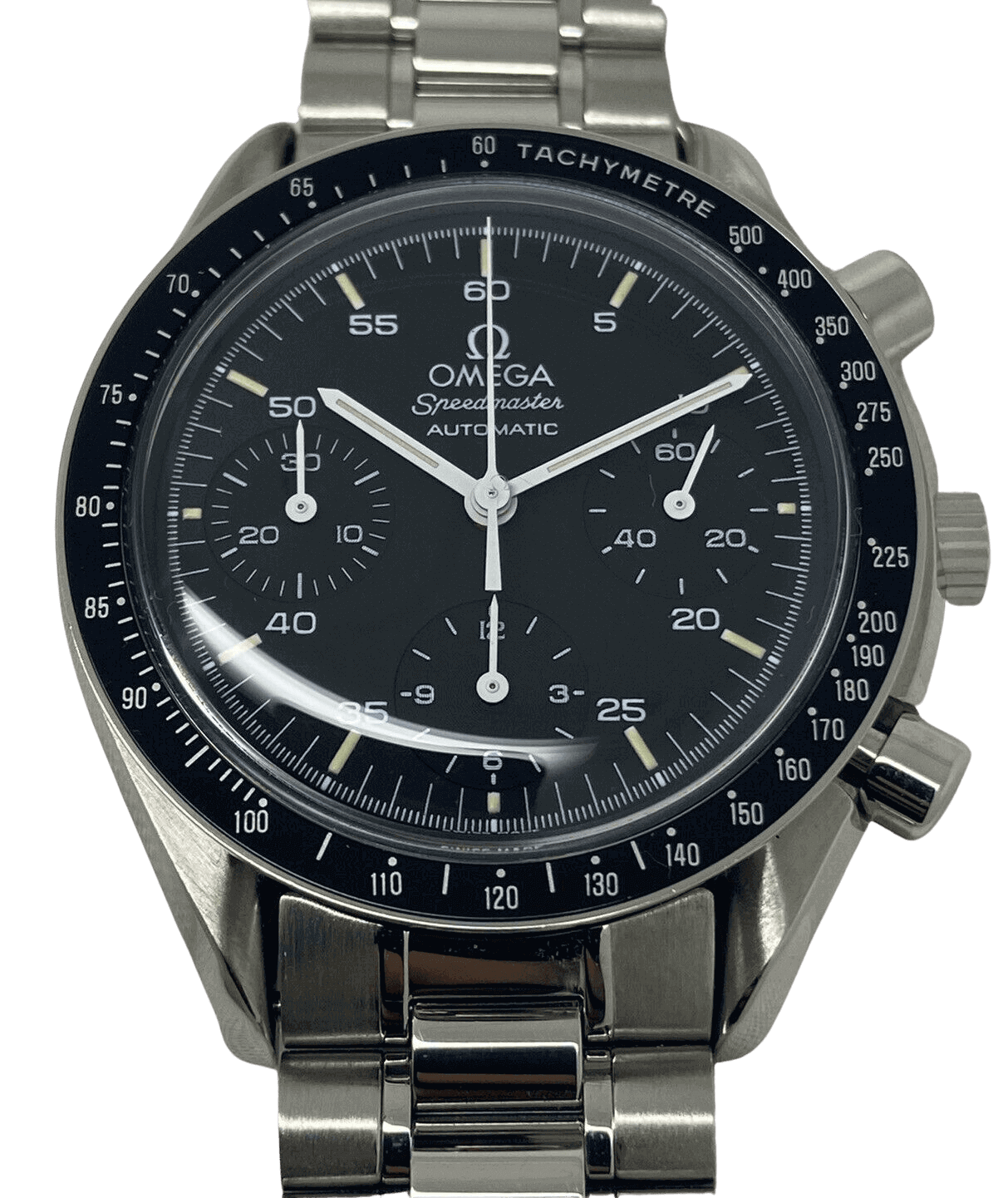 Before traveling to the Moon, the Speedmaster was already a popular racing chronograph. After NASA qualified the Speedmaster for space flight in 1965, its destiny to become the Moonwatch was set. While all Moonwatches are Speedmaster Professionals, not all Speedmasters are Moonwatches.
Speedmaster History and Timeline

The first Speedmaster (ref. 2915) debuted in 1957 as part of Omega's Masters trilogy of professional tool watches that also included the Seamaster and the Railmaster. It was designated Speedmaster because of the tachymeter bezel and was referred to as "Broad Arrow" due to the style of its hands. The first "Speedy" featured a now-familiar three-register dial with luminous baton-style markings and Omega's hand-wound calibre 321 movement in a 39mm case.

The second iteration (ref.2998) was actually the first Speedmaster to orbit the Earth, when astronaut Wally Schirra wore his personal Speedy aboard Mercury 8 in October 1962. Meanwhile, NASA was already buying chronographs from several companies to test their ability to withstand space travel's extreme conditions. Note that despite its long history with the space program, the Speedmaster was not the first timepiece to travel to space on the wrist of an American astronaut. Eight months prior to Wally Schirra's mission, John Glenn strapped an Heuer stopwatch to his wrist as Friendship 7 circled the Earth three times.

The Speedmaster was the only watch to pass NASA's exhaustive 11-part Qualification Test Procedures. Even after it was qualified for space flight, Omega did not learn about its role in the space program until an image of Gemini astronaut Ed White wearing his NASA-issued Speedmaster (ref.105.003) on a June 1965 spacewalk was released. Omega seized the moment by adding "Professional" to the name on reference 105.012 and aggressively marketing its connection to the space program. When Buzz Aldrin set foot on the moon on July 20, 1969, the Speedmaster Professional, specifically ref. number 105.012, became the Moonwatch.

Speedmaster Professional watches are generally powered by hand-wound movements, as are pre-Moon Speedmasters. Later non-Pro Speedmasters usually have automatic movements including Co Axial Master Chronometer versions produced over the last decade. Any Speedmaster that has been qualified for space flight by NASA falls within the Speedmaster Professional family. With the exception of the Mark series, Speedmaster Professionals has stayed true to the design and style of the early versions while Omega has taken slightly more creative liberty with the non-Professional's design and features.
Key Omega Speedmaster Models
Omega Speedmaster "Broad Arrow" (ref. CK-2915) introduced;
Second generation Speedmaster ultimately worn by Schirra arrives (ref. CK-2998) with black bezel
and O-ring gasket;
Omega updates Speedy with straight
baton hands (ref. 105.002);
The Omega Speedmaster Professional is born (ref. 105.012);
Speedmaster Professional ref. 3670.50 updated to calibre 1861.
Dark Side of the Moon Speedmaster (ref. 311.92.44.51.01.003) introduced,
followed by Grey Side (2014) and White
Side (2018) versions
Silver Snoopy Award Limited edition introduced
To celebrate the 50th anniversary of the Apollo 11 mission, Omega releases a new 321-powered Speedmaster Moonwatch.
Speedmaster Features and Design

The Pre-Moon Omega Speedmaster design evolved from 1957 through 1964. Broad arrow hands were replaced first by alpha hands and then baton hands, and the size and style of the unprotected crown and pushers changed. The classic Speedmaster design emerged with ref. 105.012, which featured a 42mm asymmetrical cases with a crown guard and lyre lugs, a screw down case back, black tachymeter bezel, 3-dial register and luminous thin hands. Caseback engravings ordinarily feature "Speedmaster," a Hippocampus and several post-Moon commemorative statements. Early Speedmasters were powered by the hand-wound calibre 321 movement, which was phased out in 1968 with the ST 145.022's calibre 861 and ref. 3670's calibre 1861.

Co Axial Master Chronometer

Luminous Thin Hands

Omega reintroduced the 321 in its 50th anniversary Speedmaster Professional Moonwatch. Modern non-Pro versions have automatic movements including Omega's Co Axial Master Chronometer and offer a wider range of materials and complications than the Professionals.
Speedmaster Collectability

Any Speedmaster with the calibre 321 movement is considered highly collectable. Omega produced a total of 40-80 thousand 321-powered watches, which included some Seamasters, pre-Moon Speedmasters and pre-1968 Speedmaster Professionals.

The original Speedmaster (ref 2915-1, 2 and 3) is a grail watch for collectors. With only a few hundred made, it is an extremely rare and valuable vintage watch. Pre-owned vintage ref. 2998 Speedmasters may be easier to find and less expensive.

The calibre 861-powered Apollo-era Speedmasters are also desirable since they were produced alongside those worn by astronauts. Speedmasters from the '80s and '90s are generally available at attractive prices. Also, be on the lookout for special edition Speedmasters including the Silver Snoopy Award, Panda and 1957 reissue models.

Because of the collection's history and legacy, new and recent pre-owned Omega Speedmaster watches are also highly desirable. You can expect a used Omega Speedmaster to retain its value since enthusiasts and casual wearers consider it to be a must-have watch in any collection.
Watchmaker's Perspective

When NASA began testing the Omega Speedmaster before its journey to the moon, they took a close look at the failure characteristics of the watch. Failure characteristics help us understand how a mechanical object gets to a point of failure. Do certain parts fail first, allowing others to continue functioning? Or is the failure immediate and catastrophic? The answers to these questions were important for NASA to know, because the watches worn by the astronauts were considered critical equipment for the mission.

One area they focused on was the crystal of the Speedmaster. A watch crystal protects the dial and hands and is easily subjected to shocks. At this time, sapphire crystals were beginning to become popular, as sapphire was very difficult to scratch (sapphire is second only to diamond in terms of hardness). The downside to sapphire was that if it did break, it would shatter rather than crack. Shards of sharp sapphire floating in zero gravity seemed like a bad idea to the NASA test engineers, so they instead opted for an alternative type of watch crystal—acrylic. Acrylic is a type of plastic, often used for bullet-proof windows. While acrylic does scratch easier than sapphire, it doesn't shatter in the same way. Because of that fact, NASA asked Omega to include acrylic crystals on its Speedmasters headed for the moon.