TAG Heuer Watch Buying Guide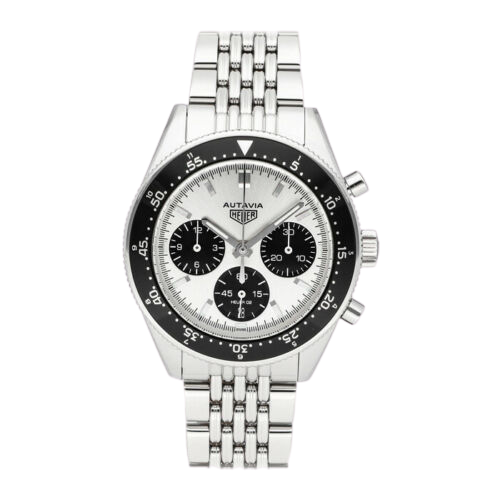 Eduoard Heuer founded Heuer in St-Imier, Switzerland in 1860. Since then, the company has designed and produced countless precision timing instruments and iconic wristwatches with revolutionary complications and designs for racing, sports, automobiles and aviation. After being acquired by Techniques d'Avant Garde in 1985, Heuer became known as TAG Heuer.
Models of TAG Heuer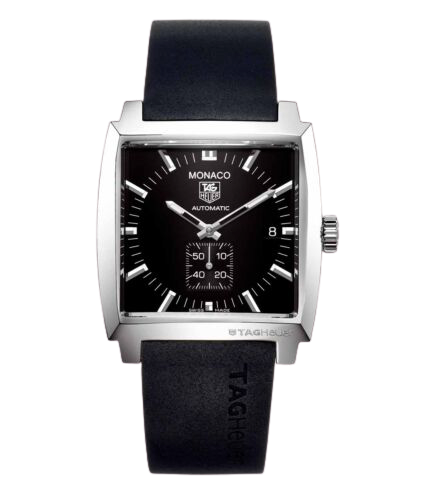 TAG Heuer Monaco

Introduced in 1969, the Monaco's 38mm square case immediately set it apart from traditional watches. It featured the world's first automatic chronograph movement (the calibre 11 produced in partnership with Breitling). Monaco's unique shape, with the crown positioned at 9:00 to reinforce the fact that no winding was required, was designed to garner attention for the movement. .

Famously worn by Steve McQueen in the film Le Mans, the 1133B Monaco is highly collectable. Current versions are available with automatic and quartz movements for men and women in 37mm and 39mm steel cases with several different colored dials and straps. Take care to thoroughly research any vintage or used TAG Heuer Monaco watch, since customer-modified cases and dials are not uncommon.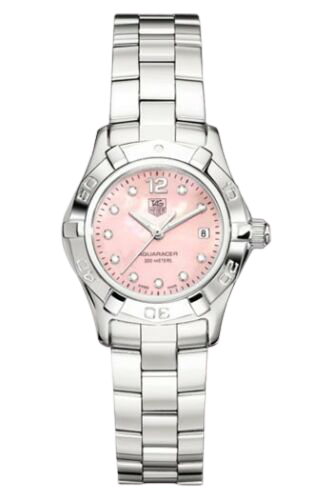 TAG Heuer Aquaracer

Described as the "ultimate tool watch," the TAG Heuer Aquaracer was informed by the waterproof pocket, regatta and dive watches produced by Heuer in the 144 years prior to its launch in 2004. Since its inception, the Aquaracer has conformed to TAG Heuer's "Six Features" design philosophy that includes: water resistance to 200 meters, screw-in crown, double safety clasp, unidirectional rotating bezel, sapphire crystal and luminous markings. With dozens of variations, the TAG Heuer Aquaracer features a wide range of colors, straps/bracelets and movements for men and women.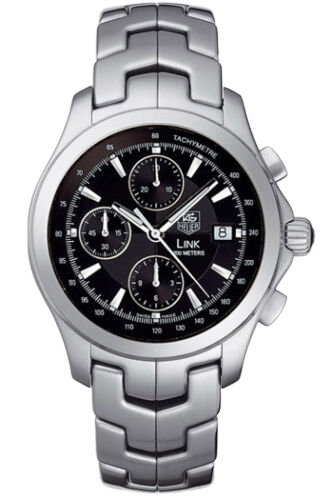 TAG Heuer Link

The unique double S shaped links in its bracelet inspired the name of the TAG Heuer Link collection. It was originally called the S/el series, an abbreviation for Sports Elegance. Over the years, each model has injected performance features into an easy-to-wear, comfortable dress watch. In addition to standard models, TAG Heuer has produced several special editions of the Link for celebrities and sports figures including Leonard DiCaprio, Tiger Woods and Formula 1 legend Ayrton Senna.
TAG Heuer Formula 1 (F1)

The TAG Heuer Formula 1 was the first watch introduced after TAG acquired Heuer. In an effort to capitalize on the trend toward value-priced watches pioneered by Swatch, TAG leveraged its racing heritage to produce the quartz-powered F1. The original F1 was a 34mm watch and featured bright colors and less expensive plastic straps and fiberglass/steel cases. A trend-driven watch, the F1 has evolved over time with added complications and dial designs, oversized cases, higher quality materials and even automatic movements. The quality and price of today's new TAG Heuer Formula 1 has increased, but prices on used TAG Heuer Formula 1 watches continue to be an exceptional value.
Main Features of TAG Heuers

TAG Heuer watches combine precision movements with an instantly recognizable design aesthetic. As much as bold colors, playful designs and unique shapes are hallmarks of the brand, so too are TAG Heuer's innovations. The company pioneered complications for racing and aviation and embraced structural changes to the industry, like the advent of quartz movements.

TAG Heuer continues to advance the art of watchmaking with its ultra-fast chronometer movements and connected smartwatches. While many elements of its "Six Features" design philosophy (water resistant to 200 meters, screw-in crown, double safety clasp, unidirectional rotating bezel, sapphire crystal and luminous markings) can be found across the line's modern collection, TAG Heuer has never shied away from new directions.